This is how Pegasus Project was used to spy on world leaders.
Pegasus Project  is spyware developed by an Israeli group NSO.
It can be covertly installed on Android and iOs devices.
It was actually developed to fight terrorism & crime but it has been used to spy on the targets of the likes of a 'client'. 
For centuries, spies have focused on those who shape the destiny of the country: presidents, prime ministers, kings in the 21st century, most of them carry smartphones.
In recent months, a list of more than 50,000 phone numbers has been checked and based on forensic analysis of dozens of iPhones, at least some of them have been attacked by Pegasus spyware licensed by governments around the world.
It is currently not possible to determine whether any NSO customers are trying to send Pegasus to the phones of leaders of these countries, let alone whether anyone has successfully turned these highly personalized devices into the ability to track the actions, communications, and individuals of almost every leader
Who was on the list of affectees?
The three current presidents, Emmanuel Macron of France, Barham Saleh of Iraq and Cyril Ramaphosa of South Africa. The three current prime ministers, Imran Khan of Pakistan, Mustafa Madbuli of Egypt, and Saad Edin El Osmani of Morocco, and seven former prime ministers, according to the list.
Ahmed Obed bin Dager from Yemen, Saad Hariri from Lebanon, Ruhakana Rugunda from Uganda, Édouard Philippe from France, Bakitzhan Sagintayev from Kazakhstan, Algerian Noureddine Bedoui, and Charles Michel of Belgium.
Liked it? Check these too.
This infographic from IPRI explains the whole mechanism of Pegasus Project: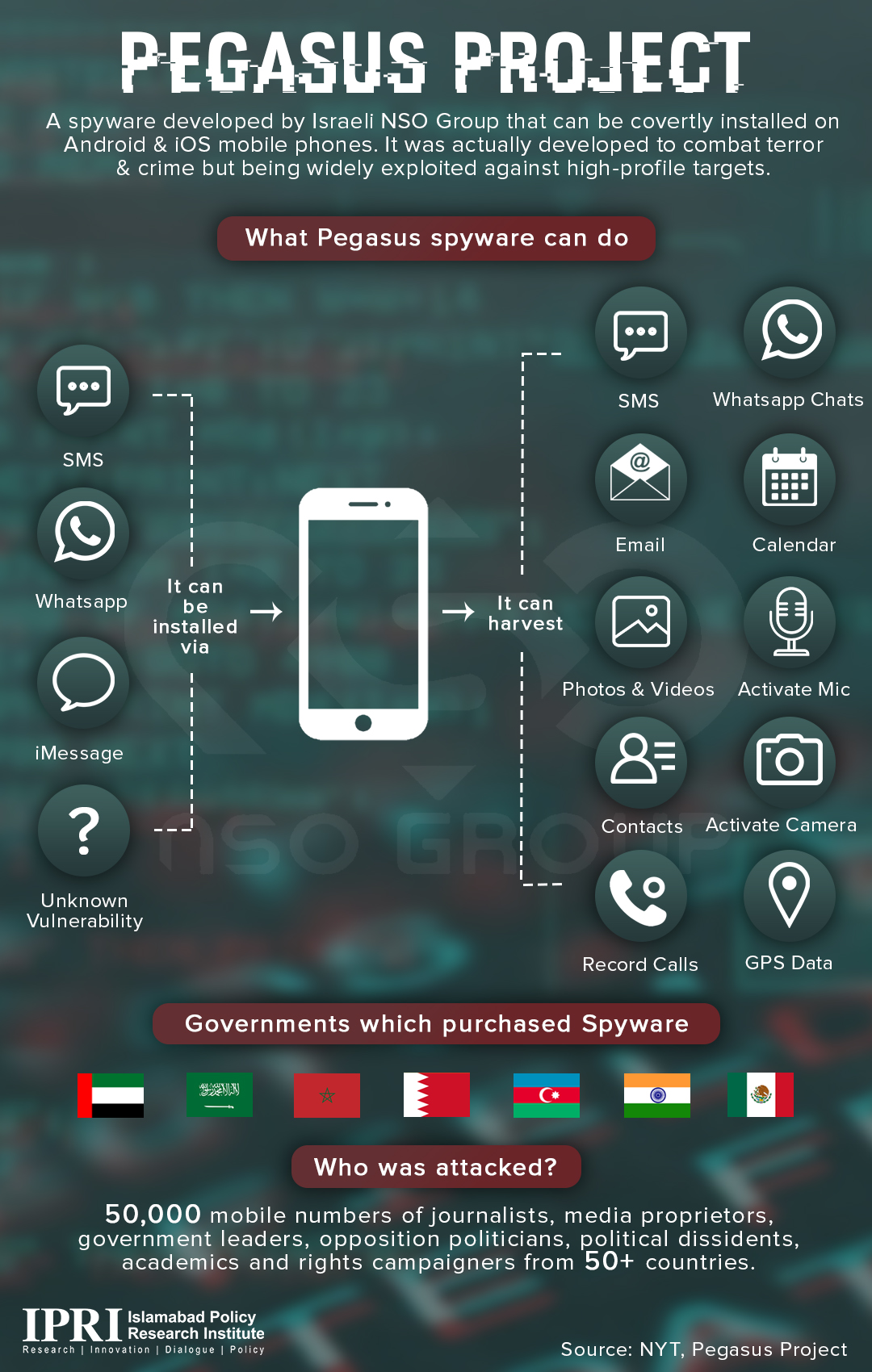 The capabilities of Pegasus Spyware:
It can be installed through a simple message on SMS service, your iMessage or Whatsapp. The spyware has also raised a serious question over the security of iOs, mainly because Apple has always bragged about the 'top-notch' security. The Pegasus spyware easily managed to penetrate into iOs devices as well.
Once it was inside the device, the possibilities were endless, it can keep an eye on pretty much everything you do on your smartphone. It had the access to ALL of your apps, your passwords stored on the device, your emails, all kinds of chat applications, and your social media.
Apart from that, your camera, GPS, contacts, and call recordings were also easily executable with the help of this spyware.
What do you think about it? Leave a comment below and let us know.
Check this too: Where did the US go wrong in Afganistan?
Facebook Comments
comments